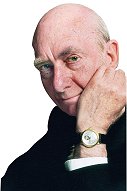 Theo Fabergé was the last surviving grandson of the legendary Russian Imperial Court jeweler Carl Fabergé when he passed just shy of his 85th birthday in August, 2007. Sometimes known as the "lost Fabergé," Theo did not learn of his famous heritage until his late forties as he was born out of wedlock in 1922 in London. He was raised by an aunt as her own son and in the turbulent post-Russian Revolution era, his name was, in part, concealed out of concern for his safety as well as providing him a normal childhood in the strict morality of Edwardian England — his favorite "aunt" was really his mother.

Theo´s father was Nicholas Fabergé, the youngest of Carl´s five sons. Nicholas had come to England in 1906 to establish and run the only branch of the family business outside of Russia in London. With the fall of the Czar, the company closed in 1917 but more than a half century later Theo Fabergé assumed the mantle, resulting in an inspired body of work of contemporary designs. As a child, Theo recalled always making things of wood and using tools, quite different from the rest of his family. When he returned from serving in the Royal Air Force during World War II, Theo began to study ornamental turning, watch repair, antique furniture restoration — all in his spare time while he headed his own company producing aircraft instrumentation.

Long before designing his own collection of egg objets, Theo Fabergé was already one of Great Britain´s most highly acclaimed artisans. For many years, however, he refused to create eggs, as he deemed his grandfather´s talent to represent the ultimate. But at the request of a little boy who came into his workshop innocently asking for a simple wooden egg, Theo fulfilled that wish and thus began a new chapter in his family´s history. While working in the manner of his forbearers, Theo´s creations utilize different materials and his own signature style. His first were recognized immediately for exceptional quality and inspired designs, leading to the launch of the St Petersburg Collection in 1985.

His obituary as it appeared in The Times of London on August 31, may be viewed by clicking on the following link TimesOnLine
To view creations from The Collection, please click on the menu above or click below to play a video segment.