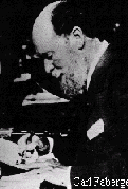 The Fabergé family came to Russia in the early 1840s after migrating across Europe for more than 150 years. The family, as Huguenots, left the France of Louis XIV to escape religious persecution. Gustav Fabergé started a jewelry business in the Romanov capital of St. Petersburg in 1842. The company prospered and Gustav's son Carl was sent to Germany, Italy, London and Paris for schooling. Nine years after his travels began, Carl returned and took over running the business in 1870. It was under his direction and inventiveness that the Fabergé firm grew to international renown. By the 1880's, Tsar Alexander III began to commission the fantastic Imperial Eggs and a tradition was born. As the Fabergé reputation spread, Europe's aristocracy began to patronize the company.To further develop this international business, Carl dispatched his youngest of five sons, Nicholas, to England in 1906. With an English businessman, Henry Bainbridge, Nicholas was to run the firm's only overseas branch in London.
By 1917, the Russian Revolution toppled Tsar Nicholas II and with him, a way of life. The Fabergé business, which then incorporated five workshops, three stores and 500 employees, closed. Carl Fabergé fled to Switzerland; three sons sought refuge in France, and Nicholas was left stranded in England. Theo is the only son of Nicholas Fabergé and was born in London in 1922.
To view creations from The Collection, please click on the menu above or click below to play a video segment.