Theo Fabergé's creation in tribute to his grandfather Carl Fabergé, who was one of the first to interpret oriental influence into jewelry. Thus the Egg is made from jet black crystal and hand painted with raised 23 karat gold. A design inspired by the delicate work of ancient oriental craftsmen. Finally, the fiery eye of the dragon is a glittering faceted ruby.

Limited Edition 750
Width approximately 4¼ inches
MacKerr Associates, Inc. / St. Petersburg Collection® 1997-2021
Prices subject to change without notice
Theo Faberge used by permission. All rights reserved.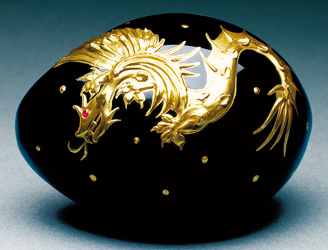 For enlarged view please click picture